Garlic Powder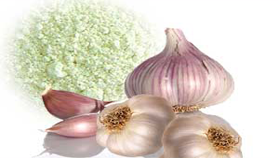 Garlic powder is dehydrated ground garlic, it can be added directly to most foods. Garlic powder has broad application including snack, potato salad, breads, pasta, pizza etc. it is easy to store, use and transport. Our customers can avail this garlic powder from us at reasonable price. We are packaging it in a dirt free atmosphere using food position wrapping materials. Maharashtra, Madhya Pradesh, Uttar Pradesh, Gujarat and Haryana are the leading cultivators of garlic powder in India. Contact us at +(91)-9322507088 or ektaintl@vsnl.net to know more details of our Garlic powder like features, specification , benefits etc.
How to Store Garlic Powder?
Store garlic powder in airtight jars.
Store in refrigerator for long-term storage.
Every time use clean and dry spoon.
Store in cool place.

Application:
Canned foods
Salad dressing and also dips
Pizza and other fast food
Meat food
Sea food products
Pet food
Pickled food
Soups and salad seasoning.
Wet and dry salsa
Features:
Delightful taste
High Nutritional value
Longer Shelf Life
Rich Flavour
Specifications:
Dehydrated vegetable
Garlic powder
8-16 mesh,26-40 mesh,100-120 mesh
Dried up vegetables flakes
Good quality and low price with the best service