Methanol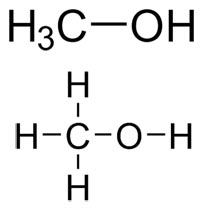 Methanol is also known as methyl alcohol or wood spirits. Methyl Alcohol is the simplest alcohol with chemical formula CH3-OH. It is a colorless, light, flammable and volatile liquid with a strong odor. It's boiling point is 64.96° C (148.93° F) and solidifies at - 93.9° C (-137° F). Most methanols are produced from the methane found in natural gas. It is considered an alternative fuel generally produced by steam-reforming natural gas to create a synthesis gas. It finds usage in products like explosives, plastics, paints, plywood as well as in permanent press textiles. Derivative of methanol Formaldehyde, Acetic Acid, Methyl Methacrylate, Methyl-Tertiary Butyl Ether.
Ekta International is one of the reputed industrial chemicals industries in India which offers optimal chemicals such as Methanol, various types of acids and dyes for our customers.
Features:
→ Used in aviation along with Rocket Fuel.
→ In chemical functionality purposes including regarding Methyl – Chloride, Methylamines, Methyl Methacrylate.
→ Used for general solvents for many applications
→ Methanol locates application inside achieving the actual requires regarding to the Producing formaldehyde along with the vehicle antifreeze.
→ Works as denaturant for Ethyl Alcohol and dehydrator for natural gas.
Application:
→ Drugs and Pesticides.
→ Waste water treatment
→ Formaldehyde.
→ Anti-Freeze.
→ Dyes and Paint.